How to choose good tattoo needles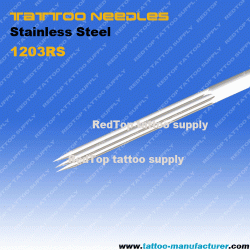 No matter you are a beginner with the tattoo art, or you are already a professional tattoo expert, it is essentially important to know how to purchase correct tattoo needles with high quality. Tattoo needles are usually made by different conductive medals. Good tattoo needle will bring efficiency to your tattoo doing and make your tattoos look very different from those done with poor needles. There are a few facts that you must know about before you purchase your tattoo needles.

1.Tattoo needles also functionalized into "liner" needle and "shader" needles. A tattoo needle is actually a group of small needles (the exact number vary from three to seven, but usually five of them) closely bound together. For a "liner needle", there is hardly no space between the small needles, as for a "shader needle" the space is a bit larger. This is because the looser "shader" needle covers a larger area of the skin to send tattoo ink into the body.
2.The final appearance of a needle depends on how it is tapered. Long tapered needles are usually used for a liner needle, while shorter tapered needles for the making of a shader needle. Different tattoo needles make differ quite much in price. But no matter what kind of needle you plan to purchase, make sure that it is a pre-sterilized disposable tattoo needle, and that they have a cutting edge instead of just a sharp point.
Classifications of Professional Tattoo Needles
Tattoo needles are used to insert tattoo ink into your skin. Choosing the suitable needle will definitely make your tattoo designs more attractive. Before you start tattooing, getting familiar with tattoo needles is really essential.

Here let's learn the classification of professional tattoo needles, mainly six categories.

1. 1 Round Liner Needle
Literally, you can regard them as single needles. Such needles are applied in the exquisite places of the design. They are easy to control and sharp enough to insert the needle without too much strength. As a result, the speed of tattoo supplies should not be too fast since too sharp and too fast will result to worse damage of the skin.

2. 3 Rounder Liner Needles
Its pin is a combination of three pin end into a single one. Taking advantage of the space between the needles storing more pigments, when piercing, it will have a good penetration effect, which will be really suitable for outlining.

3. Rounder Liner Needles
By combining multi needles into one cylindrical circular needle, the same, there can store much more pigments. Tattoo guns with five needles combined can do thick lines at a fast speed, and can shade light and dark colors in detailed parts when slowing down the speed. When with more than ten needles, it can quickly stab a large color area.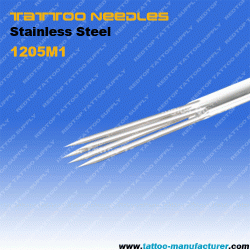 4. Single Magnum needles
Single magnum needles combine many needles, mostly four to six. Magnum needles have the advantages of both single needles and round liners, but they are too sharp for color thorn of the entire surCompact skin.

5. Double Magnum needles
Pay attention. There exist impacts of force surCompact when the combined needles reach 13, then the skin will be formed by the concavity compression and colors will be uneven.

6. Magnum Needles of Three Rows or More
They are applied for large color areas. As far as I know, there are not many tattoo artists using such needles, mainly are Japanese artists, which may be a habit of Japanese hand tattooing. Needles of this kind can stab a denser layer of color and have a better effect than round liners.